It's that time of year again!! There is nothing like seasonal decor, spending time with family and friends, enjoying delicious food and reflecting on all that you have been blessed with. It is only the beginning of the season and I am already feeling the pressure to rush through to get it all done and have no motivation. My goal for this season is to take it slow and take in each precious second. It is our daughter's first Thanksgiving and Christmas and I want everything to be perfect. Ha, like that is going to happen. I just need to keep reminding myself that I will cherish the look on her face and her reactions to all of the new things to come much more than how "perfectly" our house was decorated.
To begin Thanksgiving we hosted our annual friends pot luck dinner. I love celebrating and catching up with everyone. We will certainly keep this tradition going for many years to come! Next on the agenda is our family Thanksgiving, Busch Gardens Christmas Town, Christmas parties, Washington D.C. Zoo or Museum, Shopping and more Celebrating!!
There have been several amazing things popping up on Pinterest that I feel compelled to share. Hopefully it will spark some holiday motivation!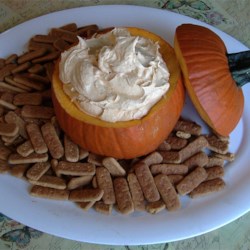 This is the best dip ever!! Super easy and a great hit!
Beautiful Fall Decor